I am Ge Yixuan, an erasmus chinese student [from Lixian, Hunan, P.R. China].
UCSC is an amazing place for me when I was there for my 7 months internship in 2009.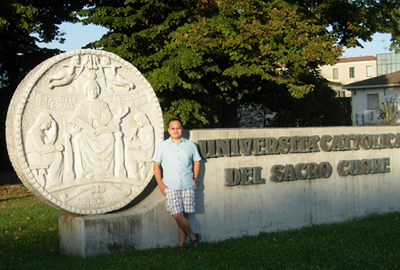 The most impression part is always the people with hospitality. My tutor Luigi Bavaresco and all the other professors like Mario Fregoni and Stefano Poni are really smart and professional. With their leading research strength all over the world, I learned a lot on viticulture and laboratory works about wine analyzing.
And all the friends especially in the viticulture institution, we were working together in the farm, we were cheering up together in the bar. UCSC is a quite happy centre when all the friends together. Students in UCSC are from all over the world. We changed different ideas and living styles from different countries. Then we learned the communication skills to different people.
Piacenza is a fantastic city also. I could find trains to go every corner of Italy. I travelled a lot in this period and discovered the beauties of this fantastic country.

I love UCSC and I love you all, my friends!