di Taku Tanaka *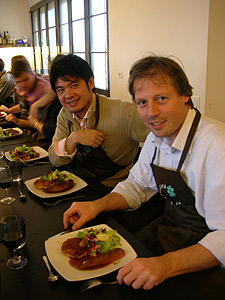 My main tasks in the PhD program are associated with a European project called 2FUN Full-chain and UNcertainty approaches for assessing health risks in FUture eNvironmental scenarios). In the framework of the project, I have collaborated mainly with a couple of project partners, EDF R&D (France), Facilia AB (Sweden). Especially with a senior researcher in EDF R&D, Dr. Philippe Ciffroy, I have made a good and close partnership.
In addition to the 6 month stay in EDF R&D last year, I began to work there from this September. In the institute, there are lots of good researchers in the areas of environmental chemistry, microbiology, ecotoxicology, and hydrogeology, so I can broaden and deepen my scientific scope interacting with them even though my scientific background is a bit far from them (agricultural engineering).
What I really appreciate for the members in the institute is that they have a good teamwork, which helps making a pleasant and relaxing working atmosphere. Actually they are busy tackling their own projects, but under the atmosphere, they can fully communicate and support each other. For example, in my case, whenever I go to their offices to ask for help, they don't spare themselves to assist me. Surely this situation would keep or even generate their motivation for research and end up with high working efficiency and productivity. I suppose that in general, it is really rare to see this kind of mood in the office of industrial sector (especially in Japan!!).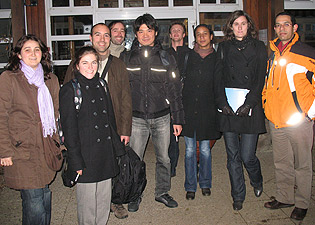 In the private time, I sometimes go out in Paris with the members for having dinner and drinks. Out of the work, we can talk more frankly and deepen our friendship. Thanks to the relationship with them, I can feel really attached to the megalopolis, Paris without the feeling of loneliness or isolation that Japanese often have in this city due to the big cultural gap (We Japanese call this feeling 'Paris syndrome'!!). Yes, obviously, Paris is a very attractive city where many people are dreaming of staying because of its beauty and elegance. Nevertheless, I have realized again that rather than that 'visible' beauty, what is more essential is 'invisible' ties between people to make us happy (some quoted from a novel of Antoine de Saint-Exupery)!!
My dear friends in Piacenza, if you have time to visit this city, you are fully welcomed. You will enjoy not only that beauty of the city, but also our 'invisible' friendship!! Ciao.
* Taku Tanaka, giapponese di Tokio, ha iniziato il terzo anno del programma di Phd organizzato dall'istituto di Chimica agraria e ambientale di Piacenza, sotto la supervisione del professor Ettore Capri. Ora è in Francia per collaborare con i ricercatori di Edf del settore Ricerca e Sviluppo a Chatou, vicino a Parigi